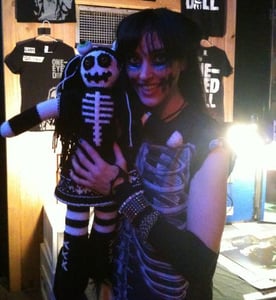 $

199.00 - On Sale
One-Eyed Doll X OctiCraft
'Bats Day' Glow-In-The-Dark Kimmy - knit doll
ARTIST DESCRIPTION:
The Knit Kimmy Doll is hand-made with all new materials. Has beans and stuffing to give the doll the right balance of squishy softness and proper weight for sitting up and even standing, sometimes...
Doll measures 23 inches tall, arm span is 20 inches.
Featuring the Black and White Dress with Glo-In-The-Dark Trim! Long yarn hair with Eyeball Hairties and bonus items
-'Doll Eye' Hemp Fabric Glow-in-the-Dark Silk-Screened Button
-Random Stickers!
***
Note on Care: having beans inside of the doll, great care should taken to keep her clean and safe, and especially dry. If you should one day like to bury her and grow some bean plants to feed hungry squirrels and passing birds feel free!
This is Officially Approved One-Eyed Doll merchandise with tags. Net Profits are Split with the band.
See more photos and more One-Eyed Doll exclusives online here:
http://discordiacultureshop.storenvy.com/products/573065-one-eyed-doll-x-octicraft-bats-day-gid-kimmy-knit-doll